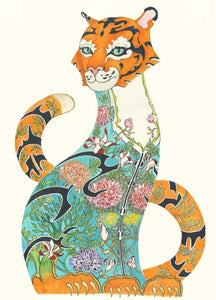 Tiger Tiger Burning Bright is the first line form William Blakes famous Poem 'The Tyger', published in 1794. Blake explores the duality between aesthetic beauty and primal ferocity. Blake philosophy is kind of summarised in a question, Did he that make the lamb also make the tiger? The struggle of humanity is based on the concept of the contrary nature of things.
Watercolour illustration of a Tiger in the Jungle by Daniel Mackie. Printed on high quality 330gsm card. Cards are 7 x 5 inches.
Cards are blank inside so can be used for any purpose, such as Thank-you cards, Birthdays or Christmas.
Cards are packed with envelopes and are protected in a cello bag.