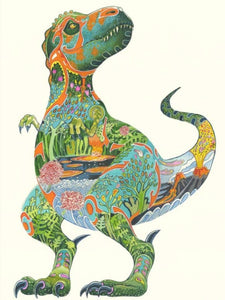 T. Rex, the undisputed king of the dinosaur world. This 7 tonne, 43 foot long carnivore ruled the plains of North America in the final years of the Age of Dinosaurs. The reputation of this Tyrant lizard should not be underestimated! It had a huge skull rammed full of sharp teeth the size of bananas (some of the biggest ever seen in a predator) as well as this it had a relatively large brain and senses which were attuned for hunting. It really was the greatest predator in our planet's history.
Watercolour illustration of a Tyrannosaurus by Daniel Mackie. Printed on high quality 330gsm card. Cards are 7 x 5 inches.
Cards are blank inside so can be used for any purpose, such as Thank-you cards, Birthdays or Christmas.
Cards are packed with envelopes and are protected in a cello bag.