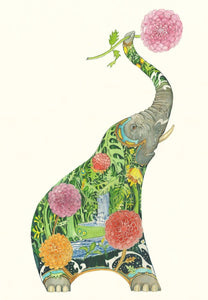 The elephants trunk is one of the creatures most amazing assets. Our nose has 5 measly muscles, (which I think sounds a little overkill considering what little we can do with it), but an elephants trunk is made up of an astonishing 40.000 muscles, has the ability to suck up 14 litres of water, is powerful enough to pick up a tree trunk, and delicate enough to pick up a single blade of grass - oh, and it also gives them the best sense of smell… in the entire animal kingdom! 
Watercolour painting of an Elephant by Daniel Mackie. Printed on high quality 330gsm card. Cards are 7 x 5 inches.
Cards are blank inside so can be used for any purpose, such as Thank-you cards, Birthdays or Christmas.
Cards are packed with envelopes and are protected in a cello bag.