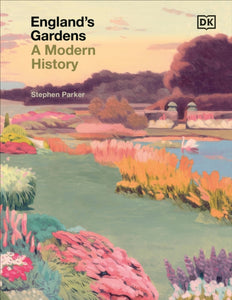 We may all feel we know what an "English" garden is, but do we really? England's Gardens offers a holistic, modern-day tour and an update on the history of some of the most iconic, enduring, and influential gardens across the country. A fresh take on a much-loved subject, this book will help you get to know England's gardens up close and personal. Garden historian Stephen Parker leads you through England's horticultural history, unearthing the cultural context and hidden stories behind the gardens, and bringing lesser-known garden makers to the fore.

In five detailed historical chapters, Parker explores the making of the so-called "English" garden - from its origins in the formal splendour of stately homes, all the way to climate-change resilience and future-facing designs of the modern era. Inside the pages of this stunning book on England's country gardens, you will find:- 5 chapters of detailed narrative essays arranged in chronological order. - Detailed profiles showcase significant garden makers.

- More than 20 photography-led garden case studies explore key gardens to visit in England today. - Stunning, full-bleed, contemporary photography brings the gardens to life. - Archival photography and historical art sheds light on the history and making of the gardens.

Discover the best gardens to visit today - with garden case studies showcasing everything England's gardens have to offer through stunning contemporary photography and careful analysis of planting schemes and garden makers' creative influences. From iconic sites like Sissinghurst and Great Dixter, to more unusual examples such as Prospect Cottage and The Laskett - this book celebrates England's gardens in all their glorious diversity, sublime beauty, and exuberant eccentricity.
PUBISHED JUNE 29th