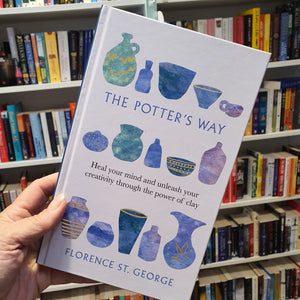 This lovely new craft book The Potter's Way by Florence St. George is a perfect gift for a potter or even an armchair potter but it is also so much more.
Pot by pot, bowl by bowl, Florence discovered that as her hands became busier, her mind grew calmer. In just a few years, she went from complete beginner to contestant on The Great Pottery Throw Down, learning what clay has to teach along the way: that creativity doesn't have to be expensive, that pottery is the perfect antidote to internet overload and that working with clay can ground you like nothing else.
In The Potter's Way, Florence shares her tips on how to get started on your own pottery journey, from hand-building pinch pots to throwing large-scale vessels on the wheel.
This captivating book invites us all to slow down, reflect and experience the transformative power of creativity. ........