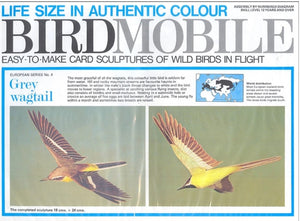 This Birdmobile is a paper model that makes a great project for young curious minds or a great discussion piece for the classroom or office.
Highly popular with paper bird model collectors and featured in many paper modeling forums. Though loved by experienced paper modelers, these designs are also enjoyed by those new to the craft and are favoured for their high-quality construction, detailed instructions, and life-like realism. Made in the UK.
Grey Wagtail has a wingspan of the finished sculpture of approximately 9 inches with a length of approximately 7.5 inches.
Each kit includes :
Detailed Step-by-Step Instructions
A Set of Fully Colored Parts
Skill Level – 12 years old and up
The creator was a man local to Malton who was a keen ornithologist. He is sadly no longer with us but his wife continues to produce these kits which bring hours of pleasure to bird lovers and crafters alike.
If you require other species do email us to check availability.