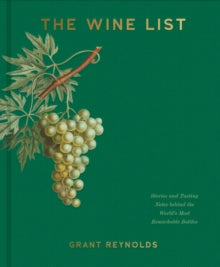 A one-of-a-kind exploration of the relationship between culture, politics, history, and wine. Vintage refers to the year grapes are harvested, and that vintage holds meaning. You can look up the weather in any almanac, but some stories are known only to insiders-until now.
In this wine book Grant Reynolds, award-winning sommelier, deciphers these signatures to reveal the impact of marketing and mentorship, technology and trends, and influencers old and new. Beginning in the late eighteenth century with a tale about Thomas Jefferson's secret White House stash and spanning over a quarter of a millennium to social media's effect on chenin blanc's popularity, The Wine List explores both the chemistry and sociology that have made vintages taste a certain way, fetch a certain price, or go extinct altogether. Featuring sidebars on topics like the taste of climate change, mini timelines capturing significant historical moments, and collage-style illustration, these entries solidify the idea that every bottle is a product of a particular moment in time.
A must-read for fans of wine books like Wine Folly or The World Atlas of Wine, The Wine List is a fresh new wine bible perfect for anyone looking for bar cart books or gifts for wine lovers.