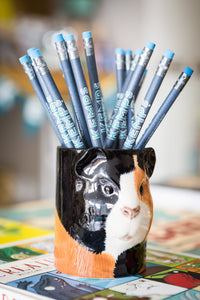 This quirky Quail Ceramics Guinea Pig Pencil Pot is perfect for storing pencils and pens on your desk and makes an attractive fun gift or office talking point
This stoneware piece is approximately 11cm tall.

Quail Ceramics is a British company with a long tradition of designing and making distinctive and stylish top quality pieces for the table and display. Their pieces are quirky yet elegant; traditional British designs with a modern twist.
Many of the unique Quail designs do something useful for the owner, from pouring drinks to holding eggs or containing salt and pepper - they are more than pretty faces.
Everything is designed in the UK and many of the originals are made in the Midlands by traditional ceramicists and then Quail work very closely with a small number of family businesses in Thailand and Sri Lanka who do the firing and hand painting of their exclusive designs.
Quail devote an enormous amount of time to getting the detail right with their skilled craftspeople. They value and cherish the relationships they have developed and this really shows in the finished product.
At Kemps we love having these fabulous creatures in our collection. There are so very many pieces to choose from that we are unable to hold every one in the shop. We know many people are Quail collectors so we have a great working relationship with the Quail team and are happy to try and source specific customer requests if we don't have exactly what you want when you want it. Just get in touch. Liz