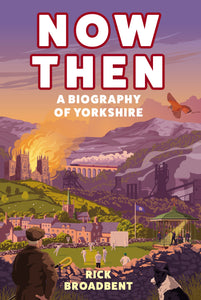 Now Then is a biographical mosaic of Yorkshire. Rick Broadbent, an award-wining author and exiled Yorkshireman, goes in search of the soul of England's biggest county and produces an all-encompassing portrait of a place that has been victimised and
stereotyped since the days of Williams the Conqueror.
Incorporating social history, memoir, reportage and author interviews, Now Then paints
a picture of what it means to be from Yorkshire – both now and back then.
Now Then is not a hagiography and Broadbent visits devastated mining communities,
an inner-city homeless shelter and the county's most isolated sheep farm, as well
as examining the truth about well-known Yorkshire figures and institutions. From the
Bronte sisters and Marks & Spencer to the Yorkshire pudding, accent and Ripper, this is a funny, wise and searching account of the county that gave the world its first football
club and its last witch-burning. Ultimately, this is an affectionate but unsparing look at a county, its people and their flinty vowels. It is about the real Yorkshire and its daily life, as well as Dracula and Geoffrey Boycott.