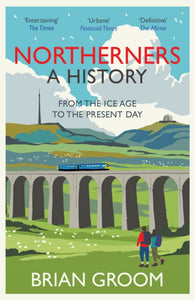 In a sweeping narrative that takes us from the earliest times to the present day, the book shows that the people of the north have shaped Britain and the world in unexpected ways. At least six Roman emperors ruled from York. The Anglo-Saxon kingdom of Northumbria was Europe's leading cultural and intellectual centre.
Cartimandua, Queen of the Brigantes, deserves to be as famous as Boudica. Neanderthals and Vikings, Central European Jews, African-Caribbeans and South Asians, have all played their part in the making and remaking of the north. Northern writers, activists, artists and comedians are celebrated the world over, from Wordsworth, the Brontes and Gaskell to LS Lowry, Emmeline Pankhurst and Peter Kay.
St Oswald and Bede shaped the spiritual and cultural landscapes of Britain and Europe, and the world was revolutionised by the inventions of Richard Arkwright and the Stephensons. The north has exported some of sport's biggest names and defined the sound of generations, from the Beatles to Britpop. Northerners also shows convincingly how the past echoes down the centuries.
The devastation of factory and pit closures in the 1980s, for example, recalled the trauma of William the Conqueror's Harrying of the North. The book charts how the north-south divide has ebbed and flowed and explores the very real divisions between northerners, such as the rivalry between Lancashire and Yorkshire. Finally, Brian Groom explores what northernness means today and the crucial role the north can play in Britain's future.
As new forces threaten the fabric of the UK again, this landmark book could scarcely be more timely.