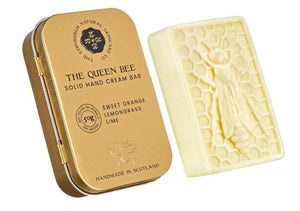 Keep your hands looking beautiful with this restorative and nourishing luxury hand cream bar.
It's so important to protect your hands from harmful environmental influences. Our hands feel the brunt of our daily lives, and can soon become dry, rough, and cracked when there's not enough time to take care of them properly. Fight the signs of premature aging and help reduce the appearance of age spots and wrinkles on your hands with this unique solid hand cream bar from the skincare experts at The Edinburgh Natural Skincare Company.
Introducing The Queen Bee Solid Hand Cream Bar made with only the finest natural ingredients to restore and protect your hands from wrist to fingertips. Presented in a sophisticated and convenient, lightweight, and re-usable tin, the Queen Bee Solid Hand Cream Bar is simple, non-messy, and delightful to use, and can be transported anywhere as your reliable friend in your pocket, whenever you're on the go and need an extra touch of enriching and protective care.
Upon application, this melting cream texture is quickly absorbed and leaves the skin feeling soft, smooth, and supple, with no oily feel. Used daily, its replenishing and strengthening combination of natural extracts will help maintain a beautiful, youthful-looking appearance.
Containing an exceptional concentration of Cocoa Butter, The Queen Bee Solid Hand Cream Bar helps deliver intense nourishment to the skin, protecting your hands from dryness by strengthening the skin's hydrolipidic barrier. Enriched with Coconut Oil and natural extracts of Sweet Orange, Lime, and Lemongrass essential oils, it provides lasting hydration and helps to soften and comfort the skin without leaving a greasy film.
The Queen Bee Solid Hand Cream Bar is an indulgent formula that helps moisturise, protect, and soothe your hands; forming a barrier against the wear and tear of the day, for deeper hydration, longer-lasting softness, and visibly beautiful skin.
Powerfully potent nourishment in lightweight and convenient packaging
The solid cream bar format beats the no liquid ban on flights!
Contains no artificial colouring, preservatives, or fragrance oils
100% natural
Definitely not tested on animals
Sustainably sourced packaging
Handmade in the Garden of Scotland
Artisanal craft for long-lasting quality guaranteed
Hand Cream Bar – 6.5cm in length, 4cm in width,  2cm in depth
Hand Cream Bar In Tin – 9.5cm in length, 6.0cm in width, 2.5cm in depth.
30 month used by date*