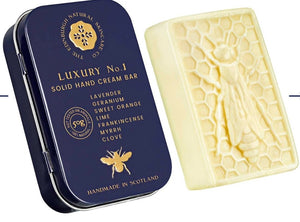 Not all hand creams are born the same. Your hands deserve a touch of class!
Luxury No. 1 Solid Hand Cream Bar is like walking into a luxurious spa. Prolonging the voluptuous aura of Luxury No. 1, this perfumed Solid Hand Cream Bar intensifies the scents of essential oils with light citrus and spicy top notes of Lime and Clove, with warm subtle mid notes of Sweet Orange, Frankincense and Myrrh and sensual base notes of French Provencal Lavender and Rose Geranium.
Sensually invigorating, this multi-tasking Solid Hand Cream Bar leaves your skin feeling wonderfully soft and nourished. Blended with Cocoa Butter, Beeswax, and Coconut Oil, your hands will feel moisturised and restored with every use.
Helps reduce the appearance of wrinkles and uneven skin tone, while increasing firmness and elasticity. Contains anti-ageing and anti-inflammatory properties, which encourage cell turnover and collagen production.
The skincare experts at The Edinburgh Natural Skincare Company believe it's of the utmost importance to protect your hands from harmful environmental influences. Our hands feel the brunt of our daily lives, and can soon become dry, rough, and cracked when there's not enough time to take care of them properly. Now you can fight the signs of premature ageing and help reduce the appearance of age spots and wrinkles on your hands with Luxury No. 1 Solid Hand Cream Bar.
Protect and nourish your hands with a touch of luxury, and indulge in a sumptuous scent. With Luxury No. 1 Solid Hand Cream Bar, your hands will be soothed, softened, and ready to show off!
The luxurious non-sticky texture that melts into the skin, giving long-lasting nourishment
100% natural
Only the purest ingredients
Contains no artificial colouring, preservatives, or fragrance oils
Handmade in the Garden of Scotland
Beats the no liquid ban on flights!
Definitely not tested on animals
Sustainably sourced packaging
Hand Cream Bar  – 6.5cm in length, 4cm in width,  2cm in depth
Hand Cream Bar In Tin – 9.5cm in length, 6.0cm in width, 2.5cm in depth.
30 month used by date*