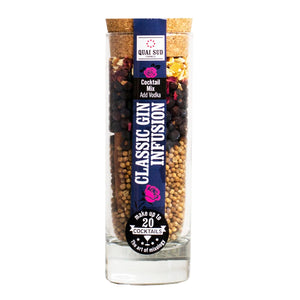 Harness the flavours of our herbs and spices to miraculously turn your vodka into a botanical gin! 
Simply mix the contents with 70cl of vodka. Seal and leave to infuse for a minimum of 24 hours. Stir, then filter out a measured shot into a glass. Enjoy with tonic water or use for a gin cocktail. Cheers!
Ingredients: 46.4% juniper berries, coriander, cinnamon, orange peels, lemongrass, rose petals, aniseed, wild pepper.
Store in a cool dry place, away from light.
Possible traces of nuts, gluten, mustard, sesame, milk, sulfites, soy.